One time or Purge shredding
We are mobile meaning we will come to you with our truck and shred at your location.  We shred for individuals, businesses, hospitals and groups.  Our pricing is competitive, and is regularly half the price of Iron Mountain® or Shred-It®…that is not a misprint, we are usually half the price of the big guys!  How is this possible you ask, "must not be apples to apple".  We are just more efficient.  We don't have any layers of staff.  You call us and you will see we don't have a telesales team, retention specialists, sales managers, receptionists or fancy recordings, just the owner operator ready to answer your questions and set an appointment.  We recycle our shredded paper at the same certified recycler as Shred-It® uses.  Our procedures are all geared to make this as easy for you all the while being 100% compliant with all privacy laws like HIPAA and FACTA. Check out our Great prices(click)
This is important–we shred the documents while you watch!
Shredding costs less the more boxes you have to shred.
We will come to you and shred all of your confidential paper onsite. We guarantee our low pricing, just call us.  Have 100's of boxes to shred?  We get pretty aggressive with pricing the more boxes you have.  Call, text or email us to discuss.  (949)459-3278 or email john at shredbull dot com.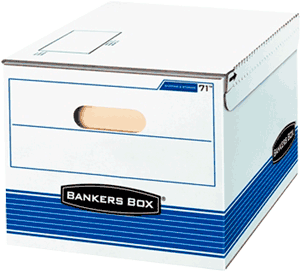 We consider a box to be a standard bankers box that measures 10" x 12" x 15".
What if you don't have all your documents in standard file boxes?[click]
Pricing isn't everything…
Pricing is not the only consideration you have, but let's face it, once you watch a big mobile shredding truck shred your documents you'll understand how difficult/impossible it would be for anyone to put all those pieces of shredded paper back together. Our truck holds literally tons of shredded material…that would make for a huge puzzle. Once we shred your documents, they never leave our control…ensuring a proper chain of custody. We are 100% compliant with all privacy legislation as well. Bottom line is, we are efficient allowing us to beat the big guys prices.
Shred Bull Shredding Process
Shred Bull Paper Shredding Truck arrives at your home, business or you come to our RSM office.
Shred Bull shredding staff gathers documents to be shredded.
Documents are shredded immediately, while you watch. This is important, some places don't shred on the spot, which is un-safe.
If needed, client can receive a certificate of destruction with their invoice.
Shredded paper is securely transported to the paper recycling mill.
The chain of custody is important, so the shredded paper never leaves our control until it is safely and securely recycled.
We answer the phone, respond to questions and set up appointments, 7 days a week.
We service accounts in the field and are open by appointment on Saturday.  We can accommodate some special shredding requests on most weekends.