Dear Valued Client,
​Thank you for filling out our same day shredding request form!  We appreciate you choosing Shred Bull for your shredding needs!
This email is to confirm we have received your request.   We will be calling you within the next hour to let you know when our mobile shredding truck will arrive at your location.
The price will be $99 for up to 10 boxes(extra boxes just $5 ea). There are no other added fees or charges. We accept cash, check and any major credit card.
Here are some helpful tips to make our appointment go smoothly.
http://shredbull.com/preparing-documents-upcoming-shred-bull-shredding-appointment
>>That page basically says: Staples & paper clips are OK. Please no metal(hanging folders, 3 ring binders, Spiral note pads, Large Binder Clips, etc) as metal could cause a spark, which could catch the truck on fire, which would be bad.
Thank you again for choosing Shred Bull!
John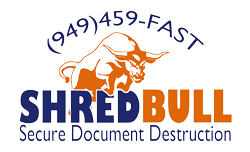 John Chapman | John@ShredBull.com | www.ShredBull.com | Cell: 949-842-2378
Work: 949-459-3278 | 29901 Santa Margarita Pkwy, RSM, CA 92688
HIPAA | MOBILE | PROFESSIONAL | AFFORDABLE | ECO-FRIENDLY