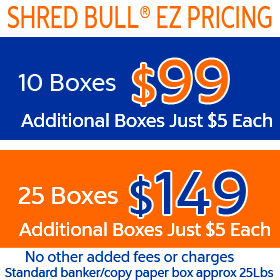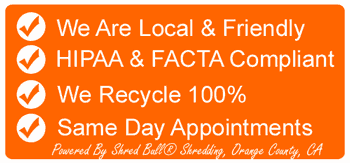 Shred Bull® Mobile Shredding - We promise you will get great service, at a great price. Our service area is all of Orange County, CA.
TIME SAVER ALERT:
Our 9-minute arrival window means that the Shred Bull® shredding truck will normally arrive within 9 minutes of your scheduled appointment time; This means you will not have to wait around half the day for your documents to get shredded.
---
---
Ready to shred?
Fill out this no obligation form and within minutes we will give you a free quotation, answer questions, or schedule an appointment. We promise to be friendly and helpful.

"This is a genuine what you see is what you get shredding deal! Lowest priced shredding is just a click away. " Questions? Call me at (949)459-3278  When you fill out our contact form it will be delivered to only me. I will then contact you as soon as possible(usually within an hour). Thank you! John Chapman(owner)
---
No added fees or service charges. ★★★★★
See all reviews or Review Us
---
How long does the IRS require you to keep records?
Most of the time it's 3 years…there are exceptions….
The length of time you should keep a document depends on the action, expense, or event which the document records.
---
Mobile Friendly AMP page