Residential shredding service, we come to you!
You can watch us shred for you! Fast & Affordable
We are a customer focused, document destruction company. We promise you will get great service, at a great price.
HIPAA | MOBILE | PROFESSIONAL | AFFORDABLE | ECO-FRIENDLY
 How Shred Bull Mobile Paper Shredding Works
Shred Bull Paper Shredding Truck arrives at your home, business or you come to our RSM office.
Shred Bull shredding staff gathers documents to be shredded.
Documents are shredded immediately, while you watch.  This is important, some places don't shred on the spot, which is un-safe.
Client can receive a certificate of destruction with their invoice.
Shredded paper is securely transported to the paper recycling mill. The chain of custody is important, so the shredded paper never leaves our control until it is safely and securely recycled.
Pricing isn't everything…
Pricing is not the only consideration you have, but let's face it, once you watch a big mobile shredding truck shred your documents you'll understand how difficult/impossible it would be for anyone to put all those pieces of shredded paper back together.  Our truck holds 10 tons of shredded material…that would make for a huge puzzle.  Once we shred your documents, they never leave our control…ensuring a proper chain of custody.  We are 100% compliant with all privacy legislation as well.  Bottom line is, we are small and efficient allowing us to beat the big guys prices.  Here is our shredding services pricing, call us if you have any questions.
Residential Shredding Pricing
We charge by the box for residential shredding.  A box is the size of a standard file drawer.  If you have them in other boxes or bags, no biggie, we'll just estimate how many boxes it would be.  A kitchen bag holds about the same as a box.    We will shred up to 300 lbs(10 boxes full of paper) at you home or office for just $99.  That is right we will send our 26,000lb truck to you and shed everything right there while you watch.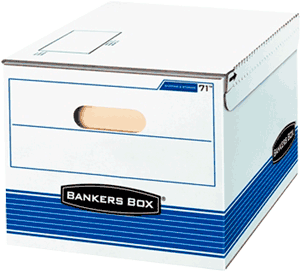 25 Boxes, Nice!
If you have 25 boxes of paper to be shredded we will come to you and shred all the paper onsite.  Believe it or not, our price drops the more boxes you have!
This is important–we shred the documents while you are here…you watch as we shred!
Our shredder truck shreds in front of your residence or you can bring your boxes of confidential documents to RSM.  All shredding is done while you watch!
Our office is conveniently located at 29001 Santa Margarita Pkwy &  Avenida Empresa in RSM.  Please call to make sure we have a shredder truck onsite.
29901 Santa Margarita Pkwy,
Rancho Santa Margarita, CA 92688
If we are not at the office we still answer the phone, respond to questions and set up appointments, 7 days a week.
We service accounts in the field and are open on Saturday and Sunday by appointment.
Always best to call or text first before coming to our office so we can make sure we have the truck and operator ready to shred.
We can be out the next day to get you going!
Thanks again!
---
Cities We Service:
Aliso Viejo, Anaheim, Costa Mesa, Dana Point, East Irvine, Fountain Valley, Fullerton, Huntington Beach, Irvine, Ladera Ranch, Laguna Beach, Laguna Hills, Laguna Niguel, Laguna Woods, Lake Forest, Mission Viejo, Newport Beach, Newport Coast, Orange, Rancho Mission Viejo, Rancho Santa Margarita, RSM, San Clemente, San Juan Capistrano, Santa Ana, Trabuco, & Tustin