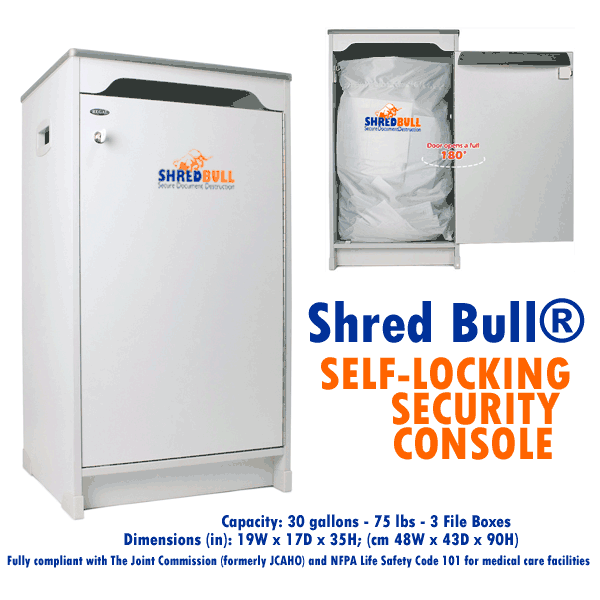 Monthly Scheduled Shredding
Our scheduled shredding services for businesses are affordable and secure. We have tried to make scheduled shredding as easy as possible for you and your business. The big guys like to lock you into contracts with 2 year terms and then add charges for things like fuel, distance, and even trip charges. Those guys also like to impose added fees if you need a service call out of schedule. You will get none of that with Shred Bull scheduled shredding, in fact we have no contracts, no fees and no terms. Every scheduled shredding client is month to month…and we have not lost one yet:) We only place these at business addresses, and your business needs to have regular hours.
For just $25 you get secure onsite shredding…this really is a bargain, no wonder we place so many of these consoles all over Orange County.
There are only a couple of things you will need to decide on with our scheduled shredding: the type of container and the frequency of our service calls.
If you fill your secure container(s) sooner than expected just give us a call and we will happily come by and empty them for you.
Our scheduled shredding security containers come in three configurations
The Executive Security Console $25mo(Most Popular)
(holds 2-3 file boxes worth of paper or about 50-75 Lbs, Minimum 2 consoles))
2. 64G Locked Security Cart $50mo
(holds 5-7 file boxes or about 150-200Lbs)
3. Our 96G, high capacity, Secure Locked 96G security cart $75mo
(holds over 300+ Lbs of paper or 10 boxes).
We do not charge you to use the containers, we just charge you when we come by to shred them. Most clients choose our once a month service, but we can come by as many time as you like–for our normal service charge of course:) All our services are compliant with all privacy legislation(like HIPAA, FACTA, etc) Additionally we are bonded and insured. Your documents are shredded at the time of our service call.
Scheduled Shredding lets you decide how often your business needs document shredding. We work with your staff to set up a pre-determined schedule so we can stop by your location and empty your collection bins regularly. Service can be scheduled on a weekly, biweekly, monthly, or quarterly basis.
We are a mobile shredding company, meaning we are driving all over Orange County every day. We are happy to schedule a stop at your storage unit, home, office or wherever. Your calls and requests are encouraged, after all we are here to serve you.
We Are Real People: If we are not physically at the office we still answer the phone, respond to questions and set up appointments, 7 days a week. We don't have an answering service or complicated call center phone systems, just a real person, usually the owner, here to answer your requests.
We service accounts in the field Monday-Saturday 7:00AM- 7:00PM and Sunday answer calls 7AM-7PM. If we are shredding in the field it can get loud, so you may get voicemail. We will call you right back…please leave a message, we want your business. We have drop off shredding locations in Orange County, California. scheduled shredding services. If you have an emergency shredding situation(moving etc), call us even on Sunday and we'll see what we can do.
We are a customer focused, document destruction company. We promise you will get great service, at a great price.