About Shred Bull® Mobile Shredding Service
We are a mobile shredder, meaning we come to you.
We shred for businesses and residential customers.
We are affordable and upfront with our pricing.
We offer two types of shredding:

Purge/one time shredding.
Monthly/scheduled shredding.

We are locally owned, family run…not a chain or franchise.
We are secure and 100% compliant with all state and federal privacy laws.
We are professional, prompt and courteous…oh and nice.
Every customer is a very important to us.
We encourage you to watch us shred!!!!
We love the environment and ALL of your shredded paper is recycled.
Even if you have a simple question we would love to hear from you. We will will not waste your time with a cheesy sales pitch or try to scare you into choosing Shred Bull®. We will be upfront and honest. Shred Bull® will do a great job for you. We are in this for the long run and work hard to earn your repeat business.
We are a mobile shredding company, meaning we are driving all over Orange County every day.  We are happy to schedule a stop at your storage unit, home, office or wherever. Your calls and requests are encouraged, after all we are here to serve you.
We Are Real People: If we are not physically at the office we still answer the phone, respond to questions and set up appointments, 7 days a week.  We don't have an answering service or complicated call center phone systems, just a real person, usually the owner, here to answer your requests.
We service accounts in the field Monday-Saturday 7:00AM- 7:00PM and Sunday answer calls 7AM-7PM.   If we are shredding in the field it can get loud, so you may get voicemail.  We will call you right back…please leave a message, we want your business.
How Shred Bull Shredding Works
Shred Bull uses industry "best business practices" to certify and authenticate that your materials have been properly destroyed.
The first step is for one of our professionals to gather up all the paper to be shredded and put into one of our secured shredding carts.  Once all the paper is in the cart we wheel the cart to our 100% HIPAA compliant shredding truck.  The cart is then lifted onto the truck where all the confidential paper is fed into our giant, 6,000 pound mobile shredding unit.  The truck can shred about 100 boxes per hour(10 full carts).  We shred all the material onsite.  The truck then goes to the recycling plant where all of the shredded paper is recycled.  The recycled paper is used for consumer paper products.  This keeps the paper out of the local landfill and makes the earth a better place to live.
What you should shred & what we can/cannot shred:
You should anything that has a signature, account number, social security number, or medical or legal information (plus credit offers).  We recycle all paper we collect.  Sorry, but we cannot accept bound books, cardboard, magazines, newspaper or soiled paper, most of your municipal garbage companies will accept those items as part of their curbside recycling programs.  We can shred paper with staples, rubber bands and paper clips.  All other metal will need to be removed as it creates a fire risk (paper dust on the truck + spark from metal = possible fire)  We can't accept x-rays but they can be separated from the paper and then recycled(there are many free services that want your x rays since x rays contain silver.  The main thing we shred is paper.
Need visual proof that your documents have in fact been destroyed?  Shred Bull's residential & business shredding services uses a specifically manufactured truck with windows that allow you to see the shredder at work!  We use the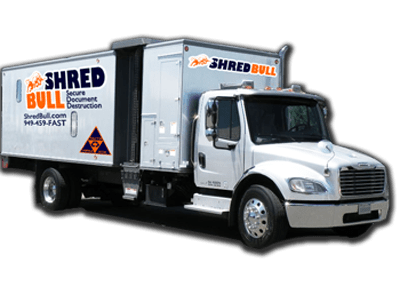 hammermill pulverizing paper shredding system.  Shred Bull's hammermill makes it impossible to miss a single page during the shredding process.  The shredder on board the truck actually uses brute power to pound paper through a mesh filter, resulting in random tears, none larger than 5/8".
https://shredbull.com/residential-shredding-south-orange-county/
Shred Bull provides businesses and individuals with a professional secure shredding service and recycle 100% of the shredded material.  Shred Bull's mobile shredding service will shred documents at your business' location.  Customers can start by using Shred Bull's "one-time" purge, or as a regularly scheduled client.
Our Services
Mobile shredding – Shredding trucks come to your business and destroy your confidential materials on site. You watch the shredding.
Route Shredding Service – Daily, weekly, or monthly scheduled shredding service is available. Secure, locking shred bins are provided for free.
Purge Shredding Service – For those requiring annual, one-time or occasional shredding service. Pricing is based on the volume of paper shredded.
Secure Shredding – All shredding services used are secure and compliant with Federal and California privacy laws.
Certified Document Destruction Service – No matter the paper is shredded, you get a Certificate of Destruction.
We look forward to helping you.  Please reach out to us if you have any questions.

Call or text us anytime (949)459-3278
If we are not at the office we still answer the phone, respond to questions and set up appointments, 7 days a week.
We service accounts in the field and are open
Always best to call or text first before coming to our office so we can make sure we have the truck and operator ready to shred.